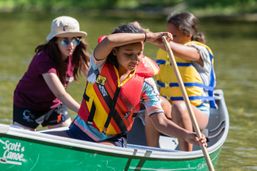 "It is true that Christie Lake Kids provides excellent after school programming in the city and the magic of summer camp to vulnerable kids and youth. But it also offers so much more." 
Adrienne Vienneau, Executive Director
For 100 years, OCYI partner, Christie Lake Kids, has been supporting Ottawa's children, youth and families. A truly grassroots and local organization, Christie Lake Kids began in 1922 when an Ottawa judge wanted better opportunities for boys known to him through the court system. Shaped and championed by renowned psychiatrist, Dr. Dan Offord, from 1958 forward, Christie Lake Kids now provides skills-building programs to kids and youth in the city and overnight summer camp sessions. 
With fun, sun and activity combining as the icing of this organization, rich layers underneath consist of intentions to build lifelong physical, social and emotional life skills. Christie Lake Kids transforms lives through active, long-term engagement, positive mentoring and building strong relationships with kids who need it most.
Operating with a mandate of equity, diversity and inclusion, and there to serve families with financial limitations, Natalie Benson, Director of Fundraising and Communications, estimates that 90% of Christie Lake's clients have a household income of less than $30,000.
According to Executive Director, Adrienne Vienneau, the formula of partnering with kids and their families from an early age, with registration encouraged from the age of six, until they graduate as young adults, makes for a long-term relationship allowing for connection, trust, partnership and measurable outcomes. "We call families every day before programs begin to ensure their child's consistent attendance which is something unique that sets us apart from other organizations."
Skill-building programs through art, recreation, music and sports are offered free of cost in six neighbourhoods across the city. Each program activity starts with personal check-ins, ends with a check-out and every child benefits from a high ratio of staff and volunteers to participant. Adrienne explains, "Our staff are trained to teach skills like self-regulation, resiliency and conflict resolution. We help kids to be set-up for long-term success in our programs and in life in general." Knowing that meals are never a certainty for some, each activity comes with a healthy serving of food. Sessions end with formal evaluations, entailing family engagement, to collect valuable feedback for the future. 
During warmer months Christie Lake Camp, located on 88 acres of lakeside property near Perth, welcomes children and youth to enjoy weekend and week-long adventures. Badges are available to be earned for annual improvements in areas like swimming, canoeing, ecology, art, drama and rock-climbing with leadership opportunities available to older youth. The entire camp experience, including transportation and all supplies needed to attend, are provided at no cost to families. 
For Natalie, the staff, both in the city and at camp, are another reason to love working for Christie Lake Kids. "Many of our staff and volunteers feel like family because they have been with us for so long. We get to watch them grow up, graduate our programs and then return to visit, mentor, volunteer or work with us."    
Asked why Christie Lake Kids has chosen to be an OCYI partner, Adrienne says that collaboration is a cornerstone of the work being done by Christie Lake Kids and the key to future successes. "Our mission and values align with those of OCYI as we too are working to improve the lives and futures of local children and youth. We also benefit from leveraging OCYI's research related to addressing the needs of children and youth."
As to how Ottawa can best support Christie Lake Kids and expand the scope of its work, Adrienne first expresses gratitude. "Christie Lake Kids is a charitable organization and we are so grateful to each incredible individual donor, corporate donor or partner and all of our volunteers. Fundraising is greatly appreciated as is visiting our website, spreading the word, participating in events and volunteering. What I would deeply love is for Ottawa to treasure and be proud of Christie Lake Kids as a beloved local organization doing good for Ottawa's most vulnerable kids and keep it going strong for at least another 100 years." 
To find out more please visit the Christie Lake Kids website christielakekids.com and follow along on social media!
Twitter: @ChristieLake
Facebook: ChristieLakeKids
Instagram: christielakekids