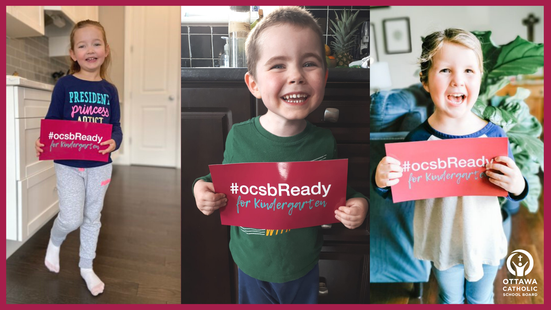 The Ottawa Catholic School Board's (OCSB) Birthday Club program is free for children in Ottawa who are under four and haven't registered for school yet. 
What child doesn't love a birthday sticker?
Children will receive a birthday sticker and a card with an age-appropriate activity that parents and children can do together. The birthday cards arrive in your mailbox via Canada Post, so your child gets to experience the fun of receiving "real" snail mail addressed to them! 
Every month OCSB draws a name from all Birthday Club registrants, and the winner receives a fun cupcake play set in the mail. Registering for the program is a fun and easy way to start the conversation about beginning school with your child! 
Share your excitement online!
Don't forget to share a picture or video of your little one with their card on social media! Use the hashtag #ocsbBirthday and tag @OttCatholicSB in your post.
Prepare Your Child For Kindergarten
How would you like to take a virtual tour of your child's potential kindergarten classrooms from the comfort of your own home? OCSB's virtual tour is an interactive way to let your child get familiar with their future classroom setting! Exploring the environment allows your child to experience an easier transition into their school routine.
Families who register their child for Kindergarten at OCSB will also receive a fun kindergarten package in the mail! Kids love taking pictures with their #ocsbReady for Kindergarten sign and sporting their OCSB sticker. The Ottawa Catholic School Board welcomes families of all faiths, and they look forward to welcoming you to the OCSB family!
-submitted by OCSB