Event Information
OCYI's Critical Hours Task Group (CHTG) is pleased to host an in-person training conference for critical hours staff on Tuesday, November 7, 2023! Registration is closed. Details below and send questions to info@growingupgreat.ca.
Theme: Safe and Supportive Spaces
Who: This event is for frontline staff at a before/after school programs, recreation programs, homework clubs or tutoring programs, youth drop-in programs, or other programs supporting kids and youth ages 6+!
What: A day of professional development training for frontline staff of critical hours programs. An opening keynote will be followed by two workshop blocks, with an emphasis on the theme of safe and supportive spaces. The workshop blocks will feature concurrent sessions for participants to choose from. List of sessions with descriptions are below. Lunch is included. All sessions will be in English.
When: Tuesday, November 7, 2023, keynote starts at 9 am and the final session will conclude by 2:30 pm
Welcome and check-in: 8:30-9 am
Keynote: 9-10 am
Workshop Session 1: 10:15-11:45 am
Lunch: 11:45 am to 1:00 pm
Workshop Session 2: 1:00-2:30 pm
Where: in person at the Richelieu-Vanier Community Centre, 300 des Pères-Blancs Avenue, Ottawa ON K1L 7L5
Why: This is a chance for staff from across Ottawa to come together and learn together.
How: register by October 31 at noon, registration link below. Thanks to our funders, this conference is at no cost to attendees! Additionally, we are able to offer staff support funds to increase accessibility of the conference for organizations who may need to cover staff time or supply staff.
Registration link: registration is closed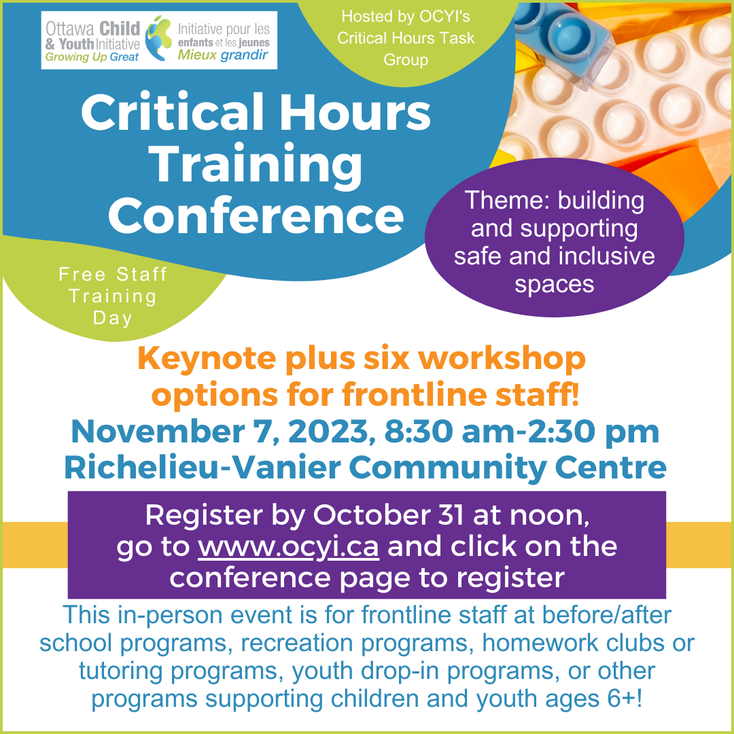 CH Training Conf 2023
Flyer for 2023 CH Training Conference
2023 CH Register.pdf
Adobe Acrobat Document
526.0 KB
Sessions
All participants will attend the keynote, and then choose workshops for the morning session and afternoon session. Two workshops are all-day workshops, so they will meet in both the morning and afternoon sessions (so participants will only select one workshop in that case). The sessions will be in English. Register at: https://www.surveymonkey.com/r/XPJDB8M
Welcome and Keynote: 9-10 am
Fostering Safe and Supportive Spaces for Children and Staff in Critical Hours Programs with Michelle Crogie, Executive Director of Pleo is our keynote speaker. Michelle is a former member of the Critical Hours Task Group and knows first hand the value and importance of critical hours programming.
Morning Workshops: 10:15-11:45 am
Neurodiversity in children's programming– safe and inclusive spaces with Kim Moore, BCBA, ESDM, Director of Clinical Development, Aspire Academy and Samantha Matthews, BCBA, Program Supervisor, Aspire Academy (morning); In this workshop, we will discuss why neurodiversity matters, how to create inclusive spaces by modifying the environment, increasing compassion and adding structure to the day.  We will review strategies in an easy to understand way and help with ideas to put these strategies into action.
Trauma Aware Practice: Cues of Safety with Mandi Pekan, MA, RP (morning); This workshop is designed to equip participants with a comprehensive understanding of trauma, its impact on children and the importance of creating safe environments for those affected by trauma. This workshop emphasizes the significance of recognizing and responding to cues of safety, ensuring that children feel secure, understood, and supported.
Lunch with Networking Tables: noon-1 pm
Afternoon Workshops: 1-2:30 pm
The Three Pillars: Introduction to Critical Hours Programming with Beth Tooley, Ottawa Coalition of Community Houses, Critical Hours Task Group co-chair (afternoon): Exploring the three foundational pillars of critical hours programming (skill development, safe and supportive spaces and positive relationships) and their link to children's well-being. If you are newer to critical hours programming, this is a good foundation for learning how to set you up for success in supporting children and youth!
Creating Intentional Magic for Children and Youth from 2SLGBTQIA+ Communities with Kymani Montgomery, Acting Executive Director, Ten Oaks Project (afternoon): This workshop will include an introduction to up-to-date language and terms discussing gender and sexual identities, tangible examples of how to create more inclusive spaces, and opportunities for your team to ask questions and discuss relevant situations or experiences from your organization.
All-day Workshops: meet in both 10:15-11:45 am and 1-2:30 pm workshop blocks
REGISTRATION FULL FOR THIS WORKSHOP:

Anti-Oppressive Practice: Centering Courageous Conversation (pt 1) and Inclusive Programming: Fostering Safe(r) Spaces (pt 2) with Jamila Ahmed, RSW, MSW, BSW, Safari Mindset (max 30 participants, all-day); Participants will learn basic definitions of terms such as colonization, implicit bias, racism, anti-Black racism, discrimination, intersectionality, microaggression, and how to address them within oneself, with colleagues, and children and youth in programming. They will engage in discussions that will develop their skills in Diversity, Equity, and Inclusion. In part 2, participants will dive deeper into anti-oppressive practice as a framework and learn strategies that create psychologically safer environments for children, youth, their families, and adults from historically marginalized communities. They will engage in activities that will enhance their skills in fostering psychological safety.
A Bullying Prevention and Intervention Workshop: Everyone Has a Role to Play with Angela Lorusso, Take A Stance (all-day); Bullying is a serious and complex issue with devastating effects on victims, those who bully, and bystanders. Research demonstrates that community and school-based interventions can reduce the level of peer-to-peer bullying. Using a community development model, participants will learn the dynamics of bullying with a specific emphasis on prevention and intervention. We will also explore facts and warning signs about bullying and provide practical tools and strategies to support, report and respond to bullying situations at both the elementary and secondary level.
Partners and Funding
Hosted by the Critical Hours Task Group of the Ottawa Child & Youth Initiative, which is composed of staff from over a dozen critical hours programs in Ottawa. Learn more about the task group here.
The training conference is supported by the following organizations who have provided funding or in-kind services:
Funded by the Government of Canada's Community Services Recovery Fund

City of Ottawa—Recreation, Cultural, and Facility Services
City of Ottawa—Community Safety & Well-being Plan