Event Information | Informations sur l'événement
Le français suit
Stop by this November 28 information session to learn more about the Just ask campaign and how it can support the questions and needs of the families you work with. Service providers are invited to pick up posters for their organization and chat with the Just ask partners: 1Call1Click, 211, Parenting in Ottawa, and the Parent Resource Centre. We are pleased to be debuting a newly refreshed poster, available in both English and French. The digital poster will also be available.
Date: November 28, 11 am to 1 pm
Location: Pinecrest-Queensway Community Health Centre (1365 Richmond Road, Ottawa ON K2B 6R7) in rooms 374 Pine/375 Spruce on the third floor
Additional details:

Light refreshments will be available
Please wear your face mask to protect others as we mix at this indoor event
Registration is not required for this drop-in event
If you have questions or would like to request posters even if you cannot attend, please contact info@growingupgreat.ca
Learn more about the history of the Just ask campaign, including the accompanying Facebook series and see older versions of the poster (before the new poster's debut!), on this webpage.
Hosted by the Ottawa Collaborative for Parenting Support task group.
---
Participez à la séance d'information du 28 novembre pour en savoir plus sur la campagne « Allez-y, demandez » et sur la manière dont elle peut répondre aux questions et aux besoins des familles avec lesquelles vous travaillez. Les fournisseurs de services sont invités à se procurer des affiches pour leur organisation et à discuter avec les partenaires de la campagne : 1Appel1Clic, 211, Être parent à Ottawa et le Centre de Ressources pour Parents. Nous sommes heureux de présenter une nouvelle affiche rafraîchie, disponible en anglais et en français. L'affiche numérique sera également disponible.
Date : Le 28 novembre, de 11 h à 13 h
Lieu : Centre de santé communautaire Pinecrest-Queensway (1365 chemin Richmond, Ottawa ON K2B 6R7)
Détails supplémentaires :

Des rafraîchissements légers seront offerts
Veuillez porter votre masque facial pour protéger les autres lors de cet événement intérieur
Il n'est pas nécessaire de s'inscrire pour cet événement sans rendez-vous
Si vous avez des questions ou si vous souhaitez demander des affiches même si vous ne pouvez pas participer, veuillez contacter info@growingupgreat.ca
Pour en savoir plus sur l'histoire de la campagne « Allez-y, demandez, » y compris la série Facebook qui l'accompagne et les anciennes versions de l'affiche (avant le lancement de la nouvelle affiche !), consultez cette page web.
Organisé par le groupe de travail du Collectif d'Ottawa pour le soutien des parents.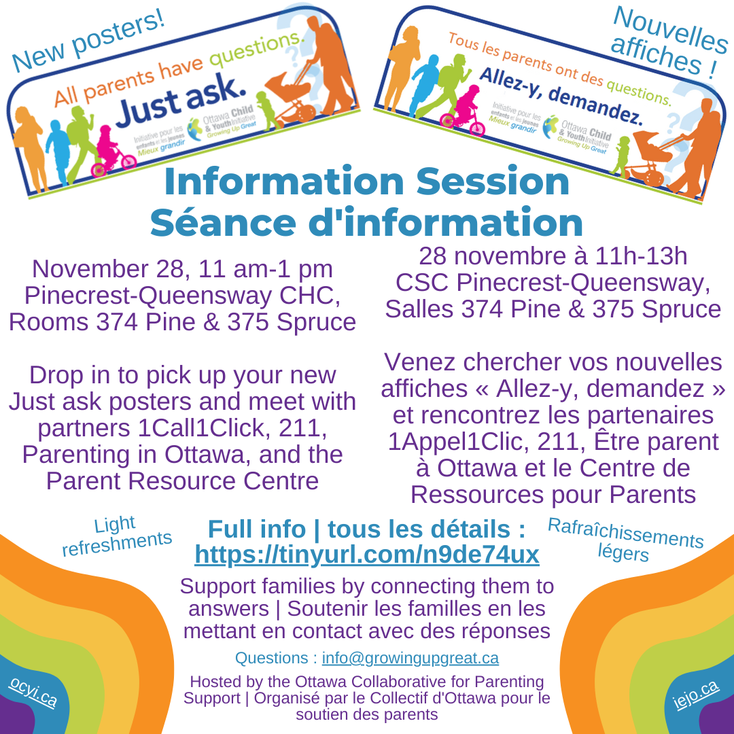 Just Ask Info Session | Séance d'info Allez-y demandez
Download the flyer to share with your colleagues! Téléchargez le dépliant pour le partager avec vos collègues !
Just Ask Info Session 2022.pdf
Adobe Acrobat Document
222.7 KB