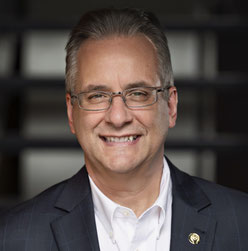 What is your name and title within your organization?


Thomas D'Amico, Director of Education, Ottawa Catholic School Board

What do you love about your organization and the work that it does? I'm proud to work for a School Board with the following strategic commitments: Be Well - Be Community - Be Innovative
I love that we live these commitments every day throughout our Board and they are a way of being and not just words on a wall. I love the fact that we focus on Deep Learning for our students along with global competencies.
Why are you a member of the OCYI Steering Committee? I am a member of the OCYI steering committee because I'm proud to live in the City of Ottawa and I want to do more to help OCYI achieve its vision of ensuring that all children and youth in Ottawa can reach their full potential and grow up great.
Why do you think that the OCYI is important? As a collective of over 80 community organizations and agencies, OCYI serves an important function to streamline communication and foster synergies to ensure that we continue to provide every possible opportunity and resource to the youth across our city.
Did you or your family ever benefit from community organizations when you were a child or youth? I was blessed to grow up in Nepean and had access to organized sports, cub scouts, and my local church. We were surrounded by caring adults to help nurture our growth.
What is your hope for children and youth in Ottawa? I believe in the empowerment of youth and their ability to make our world a better place, especially through the use of social learning and technology in a connected global society.  My hope is that every child in Ottawa has access to the resources they need to make an impact on their local or global community.