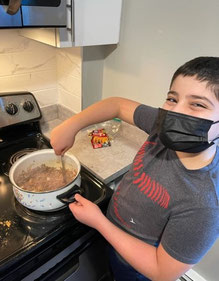 In November, YOCISO and Hazelview Communities partnered to host a weekly afterschool cooking class for Newcomer youth in the Herongate/Alta Vista community. The Cooking Around World Series provides newcomer youth with a safe and inclusive space to explore different cuisines, socialize and build meaningful relationships. YOCISO provides all supplies and engages the youth as they help to prepare the meal. This is also an excellent way for youth to learn about diverse cultures. See below our recipe and picture for Taco Tuesday. Tacos are a delicious Mexican dish that is commonly eaten around the world. They can be made with any meat, fish, or even vegetables.
Recipe:
Makes a Serving of 12 (two tacos per person) 
Ingredients:
1 Kilogram of ground beef (You can substitute beef for corn and beans for a vegetarian option) 
2 Diced Medium Sized Onions
1 Packet of Taco Seasoning (** If you don't have Taco seasoning, you can add 1 teaspoon of pepper, salt, garlic powder, cumin, paprika**) 
2 Tablespoons of Olive Oil 
2 tablespoons of Tomato Paste
12 Flour Tortillas and 12 Hard Taco Shells
Toppings (You can use any toppings you like): 
2 diced avocados 
2 lime 
2 tomatoes 
Shredded lettuce
Shredded mixed cheese 
Sour cream
Steps: 
Set your pan on medium heat and add two tablespoons of olive oil to the pan. Then add your diced onions. Sauté the onions until the onions are golden brown. Then add the beef and continue to sauté it with the onion until the meat turns brown. (If you plan on making your tacos vegetarian, you can add all your preferred veggies with the onions instead of adding beef) Add taco seasoning followed by tomato paste. Place a heaping tablespoon of meat mixture in each shell and stuff with toppings of your choices of vegetables. 
Enjoy! Bon appétit!
-submitted by YOCISO