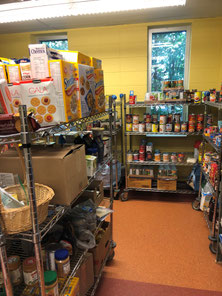 It would be challenging to find a cheerier place, on a sunny Friday morning, than the parking lot of OCYI partner, the Salvation Army Bethany Hope Centre. OCYI staff, dropping by for a visit, were treated to the bubbly voices of happy children and smiling staff members, outside handing out weekly Food Share Program boxes to an average of 25 young families a week, who are under 30 and have expressed a need.
Ottawa's Bethany Hope Centre was founded as Redemption House, a maternity home for young pregnant women, in 1913. Later it was known as Bethany Home. In 1995, Bethany Home closed its residential beds and joined forces with other local agencies to create the Young Parents Support Network and, as the Bethany Hope Centre, began providing services to young parent families. In 2013, the Bethany Hope Centre moved into its new location at 820 Woodroffe Avenue.
Airy, bright and full of windows, Bethany Hope Centre's current location offers a wide variety of programs and services designed with the mission to, "…support, equip and empower adults, youth and children in the Ottawa Region."
The Centre's five main service areas Education and Employment, Health, Infant and Child Development, Nourish Family Food and Parent Support are available to pregnant youth, young families, where one parent is under the age of 30, and children.
Sue MacGregor, Director of Child and Youth Development, says that a lot of young parents come to the Bethany Hope Centre to access the education room. "There is a young mother of a one-year-old, who has been able to work on high school because her little guy can go to the child development room to spend time with our child development workers. It is so nice because she can sit and concentrate knowing that he is safe, having fun, being challenged and read to." 
Currently the child development room is open four days a week from 10 am-3 pm giving young parents an opportunity to complete school assignments, work on their resume, and conduct meetings with a parent support worker or chaplain, and more. Due to COVID-19 restrictions, sign-up for spots is currently required.
Like most OCYI partners, the Bethany Hope Centre has had to adapt the delivery of services and programs during the pandemic, with most programs becoming virtual and many requiring appointments.
The Centre's Make and Take program, where young parents gather to prepare a take-home meal for their family, has temporarily been converted to the Take and Make program where participants receive prepped meal ingredients and a recipe to make at home.
Bethany Hope's Lunch Box Program also helps young parents to feed their families by providing certain participants in the Food Share Program, with extra groceries to make daily lunches for each child in their home. Between September 2020 and June 2021, there were 496 visits to the Lunchbox Program and 2480 lunches provided.
And according to MacGregor, the need for all of these programs and services is present and on the rise. "There are still young parents, sometimes 14, 15 or even younger, in this city trying to stay healthy, raise healthy young children, and finish school. We had three new intakes last week alone. The cost of living is so extreme right now and some of the biggest barriers faced by our clients include nutrition, food and housing."
OCYI is grateful to the Bethany Hope Centre for its partnership and to Executive Director, Sandra Randall, and MacGregor for their service on two of OCYI's Task Groups. 
MacGregor believes that the age of Bethany Hope's clients and their children, and its belief in OCYI's vision, makes this partnership a natural fit. "We share OCYI's vision as most of our clients are children and youth. This is more than a job for our staff. They are so passionate about what they do, mostly young too, and genuinely care. Our doors and hearts are simply open to young parents. We need to help shape the way for the future. Every child matters and in turn should be given every opportunity."
Cet article de blog en français ici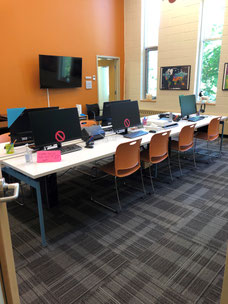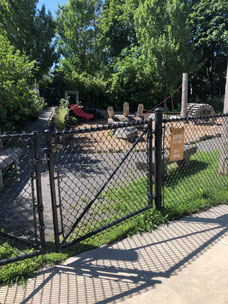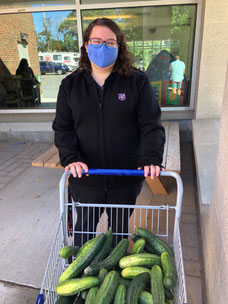 Staff member with fresh groceries