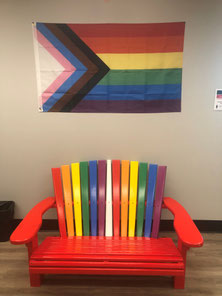 Early summer 2021, OCYI enjoyed visiting partner Youth Services Bureau's Youth Mental Services Hub on Bank Street. Just through the door, a handcrafted rainbow bench, part of an annual Pride project created by staff and youth residents of the William Hay Centre, provides a friendly welcome to young people in need of assistance.
Now officially 60 years young, YSB is the largest provider of youth services in Ottawa. Director of Communications, Suzanne Fraser, shares that YSB was founded in 1960, when it was recognized that a young man, released by the court, now had nowhere to go. "Young people need services. A place to sleep, someone to talk to, rely on, help them prepare for a job and navigate mental health support. These are just some of the things YSB provides."
YSB's variety of interconnected service areas, Mental Health, Youth Justice, Employment Services and Community Housing Services makes it possible for staff to address more of the needs that a young person might have.
YSB currently has 21 locations across Ottawa including two emergency shelters, four long-term housing buildings, mental health services, employment services offices, main central services and the YSB downtown drop-in.
With exceptions like the pandemic, the YSB drop-in is open 365 days a year to offer warmth in the winter, a cool spot in the summer, health care, meals, a food bank, laundry facilities, showers, access to computers and places to sit, talk and play. Youth visiting the downtown drop-in are also able to access guidance from onsite youth workers or attend and finish high school thanks to a partnership with OCDSB.
According to Fraser, one of YSB's mandates is to work with youth, helping them to achieve their personal goals. "It is power with not power over. The young person creates and sets their personal goals. We want them to be able to achieve independence, which looks different for everyone."
YSB's Youth Mental Services Hub houses and runs a walk-in clinic, with scheduling required during Covid-19, ongoing counselling, mobile crisis unit, which supports YSB's 24/7 crisis line and chat service, and new referral service 1Call1Click.ca. Monica Armstrong, Director of Mental Health Services, is very glad that YSB's mobile unit is now back running again, on an adapted schedule. "The mobile crisis unit is activated if a youth or situation cannot be stabilized on the phone, and there isn't an imminent risk needing transport to CHEO. It really gets to the core of YSB ethos which is to meet youth where they are. Because sometimes they cannot come to us."
Visibly moved when speaking about the extraordinary efforts of YSB staff, especially during the pandemic, Armstrong says they consistently do whatever they can to get each young person the help that they need  "One of our staff superpowers is their commitment, flexibility and dedication to the young people they serve. This approach is coupled with proper training, skill sets, knowledge and professional credentials. I watch them do amazing things with young people, including those with really complex high risk needs."
Despite the strength of YSB staff, Armstrong expresses concern for the road ahead. "Child and youth mental health services were already underfunded and under-resourced and this pandemic has highlighted the need and where those gaps are. The pandemic's impact on the mental health of young people and everyone else, including staff, is only starting to reveal itself. We are just starting to feel that wave and it is coming and coming big. There is stress, pressure and also great opportunity.
Asked why YSB has continued to be a committed partner of OCYI, which includes the valued presence of YSB Executive Director, Joanne Lowe on OCYI's Steering Committee, Fraser is frank. "YSB has lots of services but I think it would be wrongheaded for one organization to think they could provide everything. That is why we need partnerships with other organizations, initiatives, groups and people collectively helping youth and families. Together we are stronger and can do better. I never think there is a danger of offering too much help. This is all about ensuring a welcome safe environment for all youth and that is where adults need to step up, wrap around a young person and work with them."
This profile was featured in the September 2021 OCYI Ovation
Cet article de blog en français ici