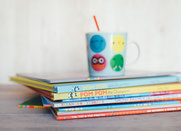 Percentage of Participating Grade 6 Students At or Above the Provincial Standard by Subject within the City of Ottawa
COMMUNITY ACTIONS FOR CRITICAL HOURS PROGRAMMING IN OTTAWA
---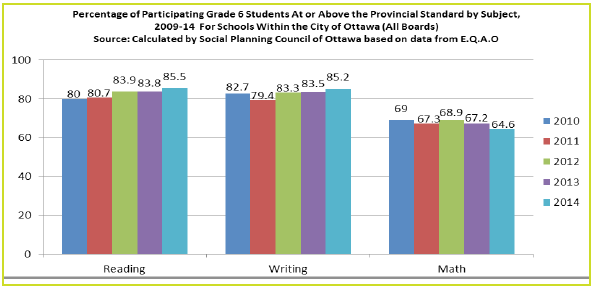 The percentage of Grade 6 students at or above the provincial standard for reading and writing continues to improve from 2010-2014 however, there continues to be a slight deterioration in math. Homework clubs positively and concretely influence social and academic outcomes for children and youth.
Our community partners have worked for many years to offer high quality critical hours programming. In more recent years, homework clubs in Ottawa have started to work collaboratively and share best practices to create a system of high quality critical hours programming.
HEALTHY KIDS COMMUNITY CHALLENGE
---
Ottawa has been selected as one of 45 communities across Ontario taking part in the Government of Ontario's The Healthy Kids Community Challenge. The Healthy Kids Community Challenge is a multiyear, community-led program that will unite our community with a common goal:
Promoting children's health through physical activity and healthy eating for children 0-12 years.
The Ottawa-based HKCC is being led by the City of Ottawa and working with partners from multiple sectors. It focuses on 20 priority neighbourhoods. Our community will rally around the theme, and work with partners in many sectors developing programs, policies and initiatives that promote and enable healthy behaviours.
HOW ARE WE CREATING CHANGE?
---
There is currently no systemic approach to support children during the afterschool hours or after school programming at a provincial level.1 The Critical Hours Task Group, under the OCYI structure was established to strengthen program standards and quality in critical hours programming in Ottawa. The rise in the number of afterschool programs over the last decade points not only the need from the community, but the impact and influence that these programs can have on children and youth.
While we can confidently say that the three pillars in critical hours programming positively influences social and academic outcomes for children and youth, there exists a significant range in the funding and resources available. In an effort to address the existing disparities between programs, the Ottawa Homework Club Community of Practice was established in 2014. The community of practice includes over 40 sites who are committed to building high quality programs through training, best practices and common evaluations to ensure that we are moving toward sustainable and systemic impacts for children and youth in Ottawa.